Alumni Lecture Series 01/2021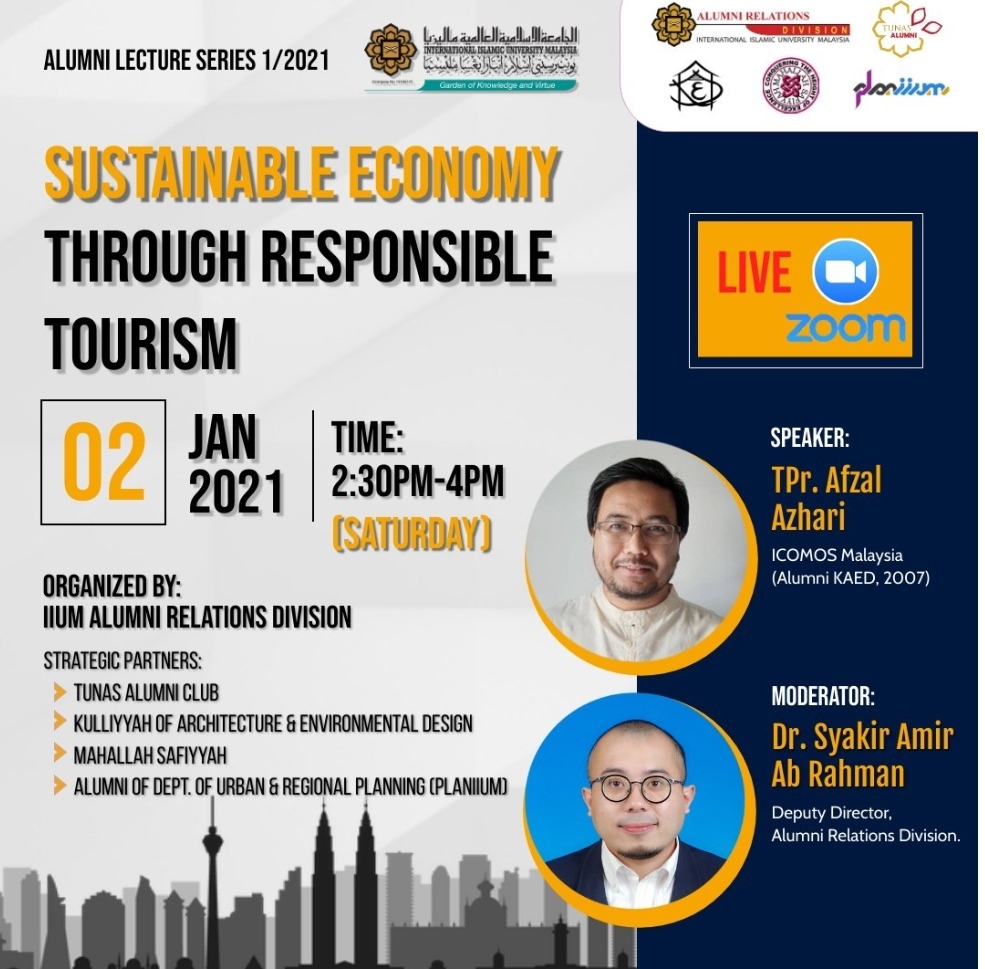 ‌ 
Domestic tourists as nation's tourism key players
By Aina Mardhia Ismail
GOMBAK, 3 January 2021: Although the tourism sector in Malaysia had been badly affected by the current global pandemic, it is believed that this industry can still survive provided it continues to receive support from local tourists.
According to Mr. Afzal Azhari, a registered town planner, given the country's borders still remain close to foreign tourists, the tourism sector will have to depend more on domestic tourism to revive the sector.
He shared his views that Malaysians enjoy the most national holiday breaks in the world, so the country should open the doors widely to domestic tourism for them to explore the country more frequently.
As an individual member of International Committee on Monuments and Sites Malaysia (ICOMOS), Afzal Azhari shared his perspective on sustainable economy through responsible tourism in Malaysia.
Throughout the alumni lecture series session held on Saturday (2 January), Afzal repeatedly mentioned that it lies in the domestic tourists' responsibility, given the country's tourism industry suffering the consequences of global pandemic that had suppressed foreign visitors from visiting the country this time.
However, Afzal who is also an Honorary Council Member of Badan Warisan Malaysia, highlighted that local visitors were less likely to appreciate and understand the significance of our own culture and heritage value.
He told the audience that Malaysians might never have heard or discovered local attractions with their very eyes, such as the existence of dolphins in Kuala Sepetang, the oldest human skeleton in Peninsular Malaysia (Perak Man) or seeing the Pakma or Rafflesia with their very eyes.
Afzal therefore stressed the importance of Malaysians as local tourists to embrace our own culture by understanding the history and take it with pride.
He agreed that the Selangor Community Host (SCH) introduced by Tourism Malaysia in 2018 is a good example in inculcating responsible tourism where locals were trained to be tourist guides.
The implementation of SCH programme is a stepping stone for community-based cultural tourism and no one is better at storytelling about heritage and cultural values of a place than its own, Afzal said.
Successful applicants to the SCH programme underwent training such as in cultural mapping of local historical assets, interpreting them through storytelling and demonstration, to mastering the arts of customer service and marketing.
Local tourist guides must be eloquent in understanding their own culture and heritage value to deliver their job successfully, Afzal stressed.
On the other hand, Afzal expressed the idea of digitalising economy as a concept well received in the tourism industry, deriving from his personal experience, as a virtual guide for an hour virtual experience on the Kuala Kubu Bharu built environment legacy of British Malaya programme.
Wrapping up his session, Afzal highlighted that tourism is not just about business, but a responsibility in sustaining the heritage and cultural values to be passed down to future generations for a sustainable tourism industry.
With the experience he garnered in multiple projects on heritage and culture, Afzal stated that 25% or one out of four workforces in Malaysia involved in tourism activity.
The lecture series was initiated by IIUM Alumni Relations Division with strategic partners of Tunas Alumni Club, KAED, Mahallah Safiyyah and Alumni of Department of Urban Regional Planning (PLANIIUM), KAED.
This is the first programme of Alumni Lecture Series 1/2021 and it was moderated by Dr. Syakir Amir Ab Rahman from Alumni Relations Division.
Afzal is also an alumnus of Kulliyyah of Architecture and Environmental Design (KAED), IIUM. ***
---