Virtual IIUM Alumni Humanitarian Appreciation Night 2021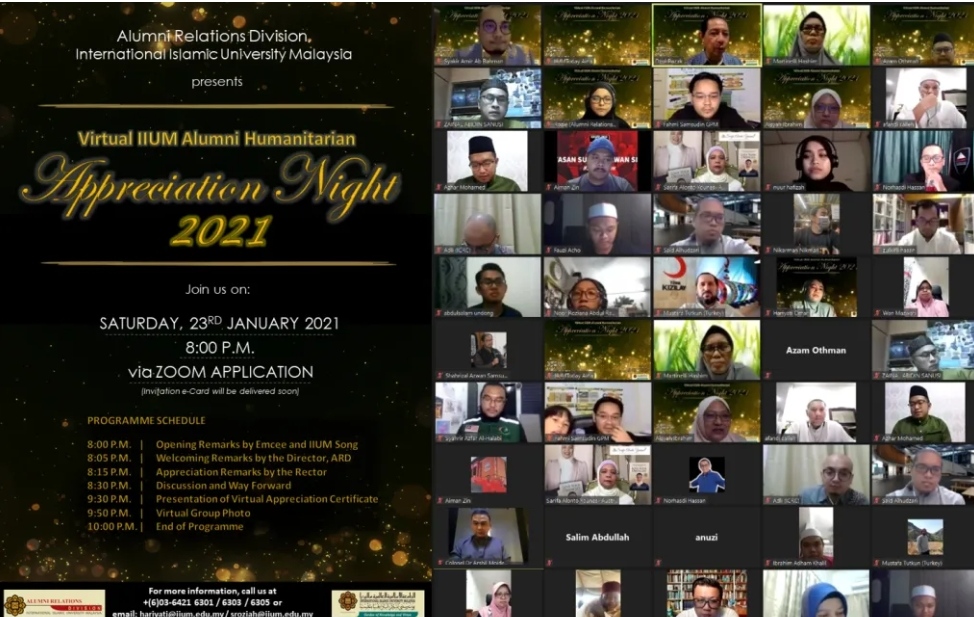 Alumni virtual Humanitarian Appreciation Night to strengthen engagement
By Aina Mardhia Ismail
GOMBAK, 24 January 2021: The IIUM Alumni Relations Division gathered graduates of diverse academic backgrounds in a virtual Alumni Humanitarian Appreciation Night on Saturday (23 January) to appreciate efforts taken by the alumni towards humanity at both the national level and worldwide as well as to strengthen alumni engagement with the university.
The Director of Alumni Relations Division, Assoc. Prof. Dr. Azam Othman, conveyed the sense of pride of alumni achievement, and sought to bridge alumni engagement in future collaboration and projects with the university.
Gracing the event, IIUM Rector, Professor Emeritus Tan Sri Dato' Dzulkifli Abdul Razak, said that the humanitarian actions became more evident during the time of pandemic where people were concerned with issues on deprivation and death.
The Rector stressed that IIUM had voluntarily donated sets of Personal Protection Equipment (PPE) produced by the IIUM COVID-19 Sewing Brigade and delivered food and essential pack assistance for the communities describing efforts taken as "timely humane actions carried out during this uncertain time."
He further expressed appreciations for graduate's efforts in "being with the people; it's not just about taking but giving back to the society through humanitarian works."
Discussing the way forward on alumni's involvement in humanitarian missions, the Director of Sejahtera Centre for Sustainability and Humanity (Sejahtera), Assoc. Prof. Dr. Zainal Abidin Sanusi, introduced plans which the university insisted on alumni's involvement and contribution.
He spoke about the idea of a book project on documented alumni's humanitarian activity, establishment of secondary and tertiary education for refugees, and possible input contribution of alumni to the university's required course (UNICORE) on sustainable development structure, in three phases, that are aligned with university's philosophy and mission.
During the discussion, the alumni contributed their opinion almost immediately which prompted diverse supports and comments on the plans presented given the alumni's varied backgrounds, nationalities and personalities.
In bridging alumni contribution to the university, the Deputy Rector Student Development and Community Engagement (DRSDCE), Assoc. Prof. Dr. Zulkifli Hasan, shared the component on alumni contribution beyond theoretical ground, by revitalising the concept of community service, empowerment and transformation.
He suggested that the alumni could contribute through internship collaboration and support to the university's initiatives and programmes.
In remembrance of Dr. Ali Noor Hassan – an alumnus of Kulliyyah of Medicine IIUM, who passed away while on duty on Monday (January 18) night, the university presented a posthumous award in recognition of his meritorious service and devotion as one of the healthcare front-liners during the COVID-19 pandemic.
The alumni who were present enjoyed the Virtual Appreciation Certificate ceremony in recognition of their contributions, for which their physical certificates will be delivered to them individually via post.
In his closing remarks, the Rector said that IIUM is distinguished from other tertiary institutions, not through the university ranking, but its humanitarian gestures with the value of Rahmatan Lil Alamin and the essence of Maqasid Shariah.
The event was conducted virtually via Zoom and attended by more than 30 IIUM alumni. ***
---