ZAKAT FITRAH 1441/2020 AT IIUM
Let's Pay Our Zakat Fitrah at IIUM
The Prophet (PBUH) said:
"The fasting of the month of fasting will be hanging between earth and heavens and it will not be raised up to the Divine Presence without paying the Zakat al-Fitr."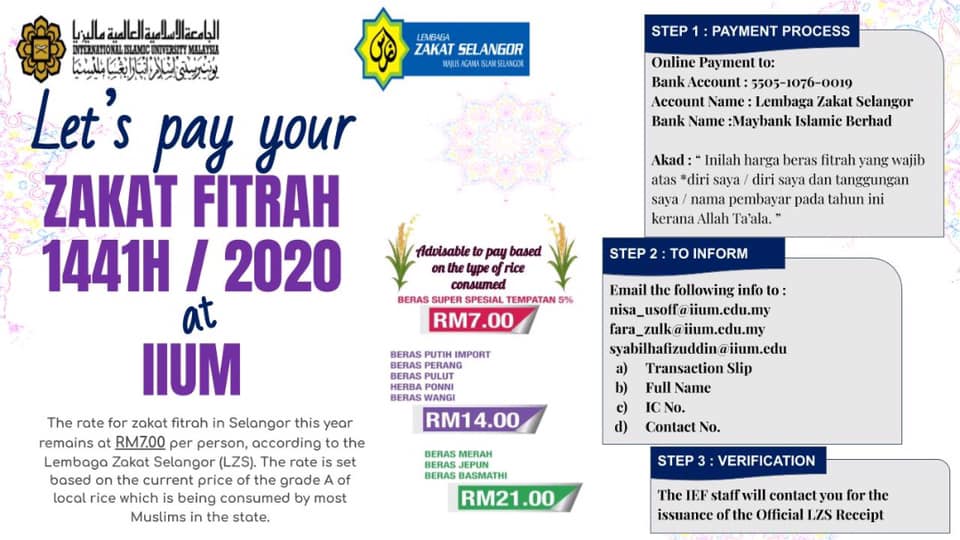 HENCE we would like to invite all alumni to pay your Zakat Fitrah through IIUM. If you pay through IIUM, the University will be given 43.75% from the amount collected to be distributed among the asnaf in IIUM, most of whom are the students.
The rate for zakat fitrah in Selangor this year remains at RM7.00 per person, according to the Lembaga Zakat Selangor (LZS). The rate is set based on the current price of grade A of local rice which is being consumed by most Muslims in the state.
However, it is advisable to pay based on the type of rice consumed as follows:
a) RM 7.00 per person
Type of Rice : Beras Super Spesial Tempatan 5%
b) RM 14.00 per person
Type of Rice : Beras Putih Import, Beras Perang, Beras Pulut, Herba Ponni, Beras Wangi
c) RM 21.00 per person
Type of Rice : Beras Merah, Beras Jepun, Beras Basmathi
❇️❇️❇️HOW TO PAY?❇️❇️❇️
STEP 1️⃣: PAYMENT PROCESS
Make an online payment to:
Bank Account : 5505-1076-0019
Account Name : Lembaga Zakat Selangor
Bank Name : Maybank Islamic Berhad
Akad : " Inilah harga beras fitrah yang wajib atas *diri saya / diri saya dan tanggungan saya / nama pembayar pada tahun ini kerana Allah Ta'ala. "
"This is the value of the zakat fitrah compulsory upon me (name) and my dependants for this year for the sake of Allah Ta'ala
STEP 2️⃣: TO INFORM
Email the following info to :
nisa_usoff@iium.edu.my / fara_zulk@iium.edu.my / syabilhafizuddin@iium.edu.my
a) Transaction Slip
b) Full Name
c) IC / Passport No.
d) Contact No.
STEP 3️⃣: VERIFICATION
The IEF staff will contact you for the issuance of the Official LZS Receipt.
May Allah SWT accept your fasting and reward you with the best possible rewards in this world and in the Hereafter.
---